We are currently only using the Playstation 3 platform to play Brink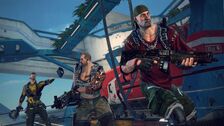 Shadow Brotherhood
Edit
Originally formed by ImpurePariah, jocolloman, Sherwood9950 as a PS3 DC Universe Online Legion on the Countdown server in January 2011. We gained some renown in the DCUO game community as a knowledgeable and fearless group of competent gamers with a couple major highlights being villain side server first Brainiac and Brother Eye raid completions. Since then, the Legion has evolved into something more and is branching out to other titles, the first exclusive title we are adding to our community is Brink. In Brink we are going to take on the role of the Resistance and have 7 committed community members to start with that are going to take part in this endeavor. View our roster below for all of our participating members.
We invite you to visit our website if you wish to join a dedicated, mature, and ever expanding PS3 gaming community. We are always looking for new members to expand our ranks, play together, and RAGE!
Recruitment
Edit
We are recruiting active players for our Brink clan. You can visit the website posted above or click here to go directly to the Brink recruitment section of the boards.
Clan Rules
Edit
As member of Shadow Brotherhood there are some simple, but important rules we ask you to follow.
Treat each other with politeness and respect.
Protect and increase the reputation of Shadow Brotherhood
Understand and be respectful of social diversity.
Current Roster
Edit
A mere handful of our many members consisting of Community Founders, Officers, dedicated players and new recruits.
ImpurePariah - Engineer/Operative
jocolloman - Operative/Engineer
Sherwood9950 - Medic/Engineer
Zephric - Medic/Engineer
ManFr3ak - Soldier/Straight Thug'n
TakoaW - Operative/most needed role per objective
blacklantern_96 - tba
Kazahashi - Medic/Soldier
Moshaya-M - Soldier/Operative
Shadowfox8218 - Soldier/Operative
ArcKnightX - Soldier/Operative
Fatal_187 - Soldier/Engineer
Soes757 - Operative/Engineer
In action
Edit
Here are 3 videos of Shadow Brotherhood in action playing DCUO, some of the people in these videos are members who will be participating in our Brink clan. The videos were shot over the shoulder from TakoaW's perspective. Sorry, there is no sound.
Black Adam : Shadow Brotherhood
Bat Family : Shadow Brotherhood
Ad blocker interference detected!
Wikia is a free-to-use site that makes money from advertising. We have a modified experience for viewers using ad blockers

Wikia is not accessible if you've made further modifications. Remove the custom ad blocker rule(s) and the page will load as expected.