The DOOM Pack is a pre-order customization pack available through GameStop and GameStop.com in the US, GAME and Gamestation in the UK (When pre-ordered from GAME, the Spec Ops Pack will also be included as part of a double pack), and Steam.
"Spread fear amongst your enemies with this exclusive character customization pack based on the world-famous DOOM games by id Software. Filled with a unique set of hellish customization options for both Security and Resistance characters, the DOOM Pack will make you stand out from the crowd and bring Hell to the Ark." - DOOM Pack description
The DOOM Pack contains:
Unique "Hellspawn" body tattoo
Exclusive UAC (Security) and Cacodemon (Resistance) customized skins for the Bulpdaun SMG
Exclusive UAC Marine Body Armor (Security) and Lost Soul Screaming Skull (Resistance) t-shirts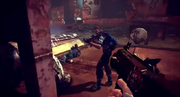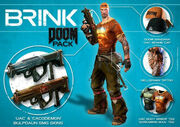 Ad blocker interference detected!
Wikia is a free-to-use site that makes money from advertising. We have a modified experience for viewers using ad blockers

Wikia is not accessible if you've made further modifications. Remove the custom ad blocker rule(s) and the page will load as expected.