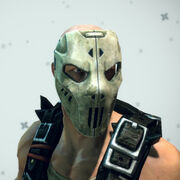 Face Gear
is a part of character
Customization
in
Brink
.
Face Gear is an option for the head that mostly encompasses masks and eye wear. This option is displayed over the various Face Paint and Tattoos & Scars options.
Face Gear is one of the core options featured as part of the various Outfit Archetypes in Brink. Each faction has a completely different selection of Face Gear options and colors are not always shared for each. Also, the bug is a pretty swiggity mask.
Resistance
Edit
Ad blocker interference detected!
Wikia is a free-to-use site that makes money from advertising. We have a modified experience for viewers using ad blockers

Wikia is not accessible if you've made further modifications. Remove the custom ad blocker rule(s) and the page will load as expected.