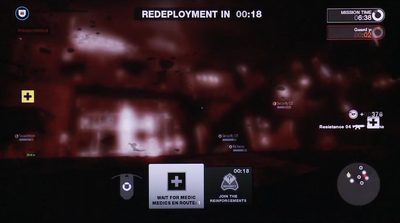 Incapacitated, or "downed" is the state a character will enter after all his health is depleted. The screen will turn to black and white, and a counter will displayed at the bottom of the screen, showing the player how much time is left before they are able to respawn at the closest spawn point. 5 courses of action may be taken from here:
You may choose to wait for help, and be given a health syringe by a medic, which you use at a time of your choosing to revive yourself on the spot,
You may choose to "tap out," and be revived at the closest respawn point the next time the spawn wave counter reaches zero,
You may be killed by a melee attack from an enemy player, in which case you will be revived at the closest spawn point (typically a Command Post) the next time the respawn wave counter reaches zero.
If you are a Medic and have purchased the Self Resurrection Ability using a Level Credit then you can revive yourself when you want to, just like if another medic where to give you a health syringe.
If you are an Operative and have purchased the Cortex Bomb Ability, you can detonate this.
Ad blocker interference detected!
Wikia is a free-to-use site that makes money from advertising. We have a modified experience for viewers using ad blockers

Wikia is not accessible if you've made further modifications. Remove the custom ad blocker rule(s) and the page will load as expected.