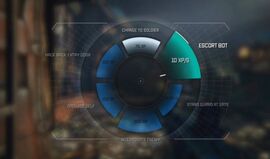 Objectives are a kind of activity the players will be tasked with accomplishing in Brink. Each class has its own objectives to do. Completing a objective will get you experience points. At any time on the battlefield, the player can select the most important objective by tapping up.
Objective wheel
Edit
The objective wheel (seen to the right) is a helping hand for players to find objectives. To access the objective wheel, hold up on the D-pad. When a player picks an objective, an arrow at the top of the screen guides him to the objective. The most important objective is always at the top of the wheel, which can be selected by pressing up on the D-pad. The objective wheel will automatically update itself depending on the battle scenario.
General objectives
Edit
Change class
Escort target
Carry objectives
Capture command posts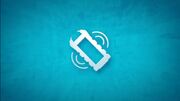 Disguise self
Plant Hackbox
Hack Objective
Spot Mines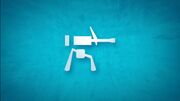 Upgrade teammates weapons
Plant mines
Repair crane
Upgrade Command Post
Repair the bot
Construction and Repair objectives
Destroy shortcut obstacle
Resupply Teammates' Ammo
Plant HE charge
Heal/revive teammates
Buff teammates' health
Revive escort/target
Ad blocker interference detected!
Wikia is a free-to-use site that makes money from advertising. We have a modified experience for viewers using ad blockers

Wikia is not accessible if you've made further modifications. Remove the custom ad blocker rule(s) and the page will load as expected.