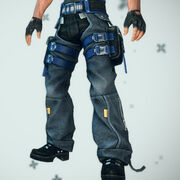 Pants
is a part of character
Customization
in
Brink
.
Pants is currently the only option for the legs, which encompasses various forms of trousers and shorts. Some Jacket options can hide various pouches and belt items for some Pants options.
Pants is one of the core options featured as part of the various Outfit Archetypes in Brink. Each faction has a completely different selection of Pants options and colors are not always shared for each.
Resistance
Edit
There is no "Nothing" option for Pants on either faction.
Ad blocker interference detected!
Wikia is a free-to-use site that makes money from advertising. We have a modified experience for viewers using ad blockers

Wikia is not accessible if you've made further modifications. Remove the custom ad blocker rule(s) and the page will load as expected.