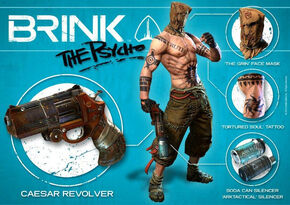 The Psycho Pack is a pre-order customization pack available through Amazon.com (or Amazon.co.uk) and Direct2Drive.
"Push your Brink character even further with new and exclusive customization options. Containing a new weapon, a terrifying face mask, a unique Janus body tattoo and exclusive silencers, the Psycho Pack will turn you into a deadly and terrifying assassin as you fight over the future of the Ark and its inhabitants." - Psyco Pack description
The Psyco Pack contains:
Ad blocker interference detected!
Wikia is a free-to-use site that makes money from advertising. We have a modified experience for viewers using ad blockers

Wikia is not accessible if you've made further modifications. Remove the custom ad blocker rule(s) and the page will load as expected.